China Reopening and Impact for Markets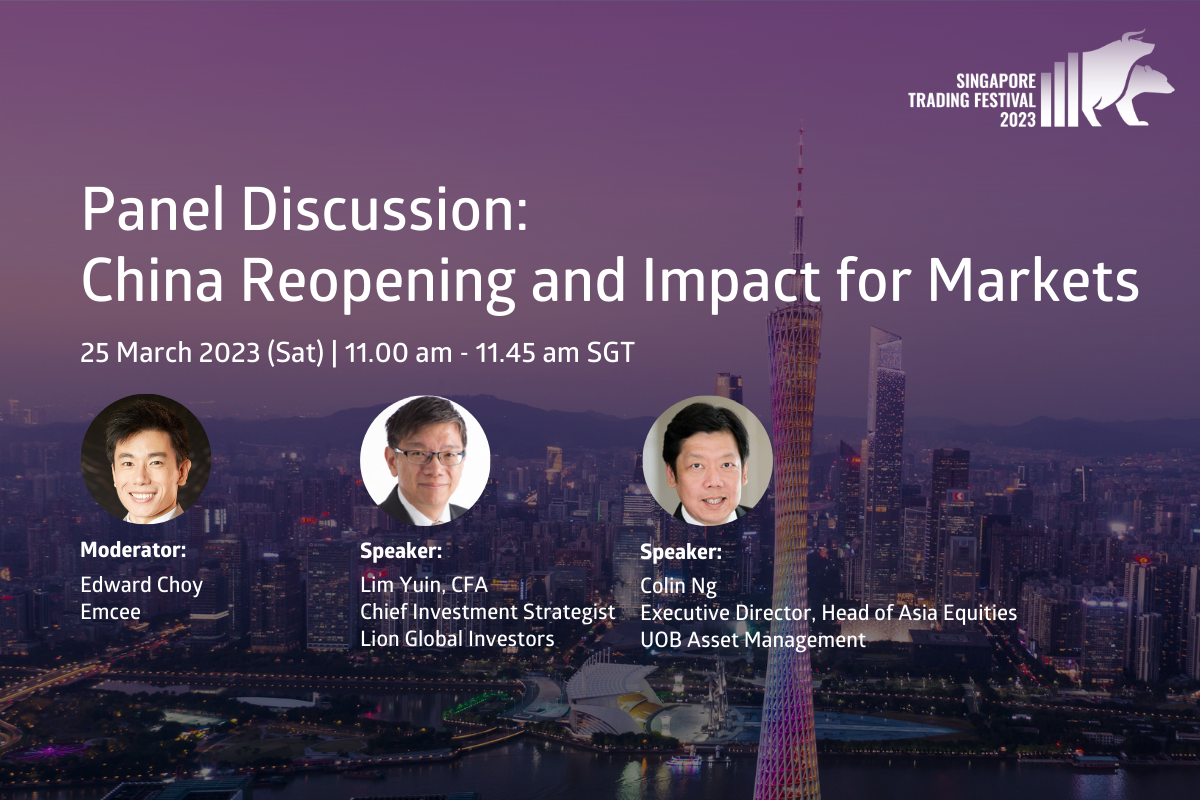 Event Overview
China's reopening and the relaxation of pandemic measures came in at a faster pace than expected. In fact, China's reopening is expected to be a growth driver for the global economy and is fast becoming a trading theme for many markets. Join us at this session to find out more about what this means for markets, investors, and traders.
Speakers
Colin Ng

Executive Director, Head of Asia Equities

Colin re-joined UOB Asset Management (UOBAM) in October 2012 as Head of Asia (ex Japan) Equities. He is responsible for overseeing the ongoing development of the Asian equity research and investment capabilities. He has supervisory responsibilities for the specialist equity teams of Greater China and Asean.

Prior to joining UOBAM, Colin was the Head of Asian Equities in Baring Asset Management and Manulife Asset Management. Based in Hong Kong, he took the lead role in the management of Asia ex Japan equity products and various institutional mandates. Between 2005 to early 2009, he was the Head of Asia Equities at UOBAM, where he led a team successfully managing a range of Asian core and sector mandates.

Colin has collected several accolades for his success as a portfolio manager. These include the 2007 Lipper award for the United Asia Fund. In addition, the other funds under his charge, namely the United Greater China Fund and the small caps-focused United Asian Growth Opportunities Fund were rated 4/5 stars by Morningstar from 2007 to 2008. Morningstar also recognised the United Regional Growth Fund as the best performing Asia Pacific equity fund in 2008.

Colin holds a Bachelor of Accountancy (Honours) from National University of Singapore and a Masters degree in Applied Finance from Macquarie University in Australia. He has more than 28 years of investment experience.

Edward Choy

Moderator & Emcee

Edward Choy graduated with a Master's Degree in Theatre and lectures at the National University of Singapore in the fields of Acting Theory and Performance Studies. He is an experienced actor, host, and corporate trainer, but started his professional career in retail banking as a wealth manager. He also regularly hosts public forums and panel discussions with renowned financial experts for the Singapore Exchange (SGX).

Edward has worked with leaders from some of the largest global financial institutions, as well as leading companies in the fields of technology, pharmaceuticals, communications, agriculture, and energy, along with governmental agencies both locally and internationally.

Lim Yuin

Chief Investment Strategist

Lim Yuin is Chief Investment Strategist at Lion Global Investors with 17 years of financial industry experience specialising in asset management and securities. He was previously the Fund Manager of the LionGlobal Disruptive Innovation Fund and a Japan Equities Analyst at the firm before moving into his current role.

Prior to joining Lion Global Investors, Yuin was a senior Research Analyst at CLSA Asia-Pacific Markets where he was ranked top by Nikkei Starmine Japan in 2008 and 2009. Before that, he served as a Director of the Singapore Economic Development Board in Tokyo and was also First Secretary of the Singapore Embassy in Tokyo.

Yuin holds a Bachelor of Engineering from University of Tokyo and is also a Chartered Financial Analyst (CFA) charterholder.
Event Location
Other Events
28 March 2023
7:00 PM – 8:00 PM
Trading the HK/US markets on SGX using DLCs
Online
Navigating Risk: Why Singapore Market is a Safe Haven for Investors?
Online
Which SGX-listed Stocks/ETFs Will Benefit from the China Reopening Theme?
Online