Green investing and why is everyone talking about it?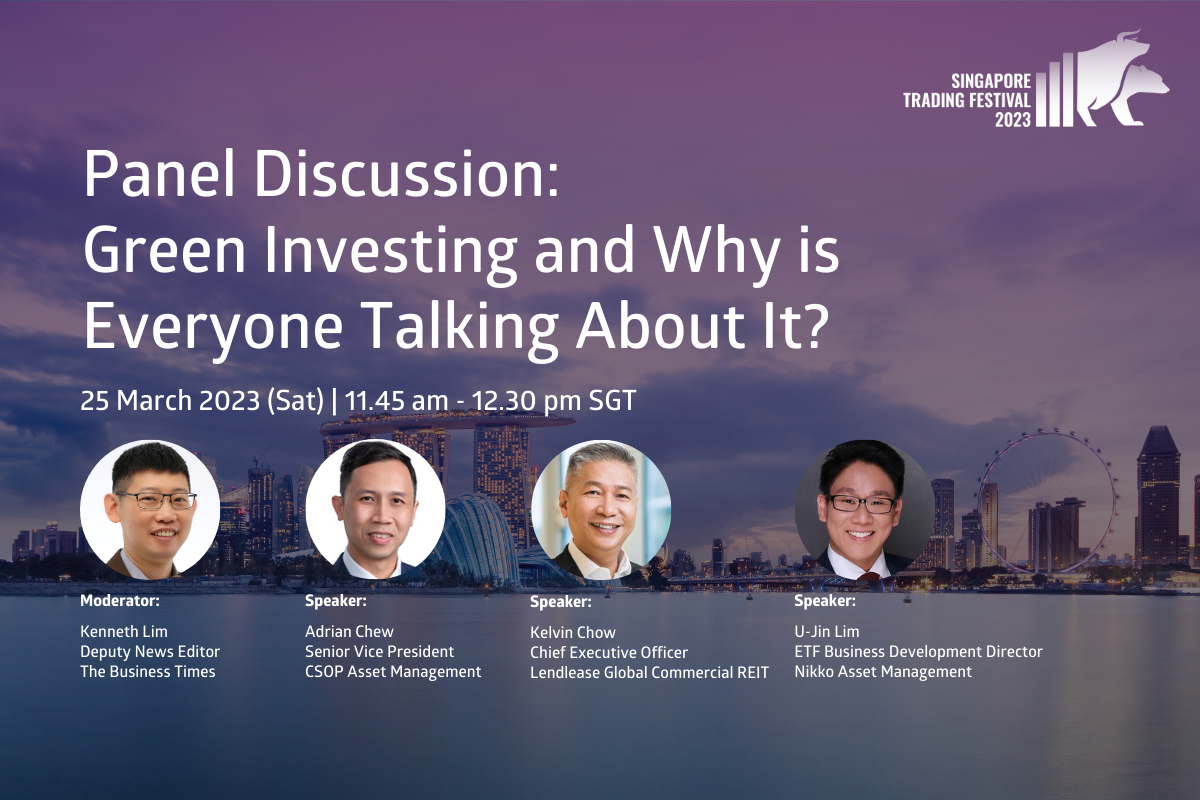 Event Overview
Everyone's talking about the pivot towards ESG, green and/or sustainable investing. Why is everyone on it and what does it really mean for investors and their portfolios? How should we position for this? Join us as we dive into green investing and opportunities for all.
Speakers
Adrian Chew

Senior Vice President, Sales and Marketing Strategy (S.E.A)

At CSOP Asset Management, Adrian oversees ETF investment solutions for Brokers, Wealth Managers, and Family Offices in Singapore. Adrian is also part of a team responsible for developing sales strategy and strategic partnerships with institutions in Southeast Asia. Before that, Adrian was working for Phillip and CGS-CIMB Securities in various roles, including equity advisory sales and trading, Business and Product Development.

Kelvin Chow

Chief Executive Officer

Mr Chow has approximately 30 years of experience in finance and accounting matters, tax and treasury and capital management, of which 20 years are in direct real estate investments and fund management. Prior to this appointment, Mr Chow was the Managing Director of Investment Management in Asia from 2018 where he managed the overall performance of the Asia funds platform and asset management function. Before joining Lendlease, he was the Chief Financial Officer of various REITs where he played a vital role to oversee the company's financial activities.

Mr Chow holds a Master of Business Administration from Universitas 21 Global. He is a Fellow of the Association of Chartered Certified Accountants and a member of the Institute of Singapore Chartered Accountants.

Kenneth Lim

Deputy News Editor

Kenneth runs the Environmental, Social and Governance team at The Business Times and writes the weekly ESG Insights newsletter for the paper. He has been covering the Singapore public and private capital markets since 2003. Over his career, he also spent time outside of BT covering US debt markets and sustainable finance.

U-Jin Lim

ETF Business Development Director

U-Jin Lim joined in 2020 as an ETF Business Development Director at Nikko Asset Management in Singapore.

As an ETF Business Development Director, U-Jin is responsible for driving the growth of Nikko Asset Management's ETFs business in Southeast Asia. He also works with brokers and liquidity providers to ensure efficient trading of Nikko AM ETFs both on exchange and over the counter.

Before joining NAM Asia, U-Jin was with SGX as part of its bond trading business, responsible for growing its institutional electronic-trading platform in Asia, as well as working on business development and strategic initiatives. Prior to that he was Vice President, Fixed Income Sales at BCP Securities focusing on HY Asian and LATAM credit.

U-Jin holds a Bachelor of Accountancy (Magna Cum Laude) and Bachelor of Business Management (Magna Cum Laude), with a major in Finance from the Singapore Management University.
Event Location
Other Events
28 March 2023
7:00 PM – 8:00 PM
Trading the HK/US markets on SGX using DLCs
Online
Navigating Risk: Why Singapore Market is a Safe Haven for Investors?
Online
Which SGX-listed Stocks/ETFs Will Benefit from the China Reopening Theme?
Online