Investing in the World's Growth Driver: Asia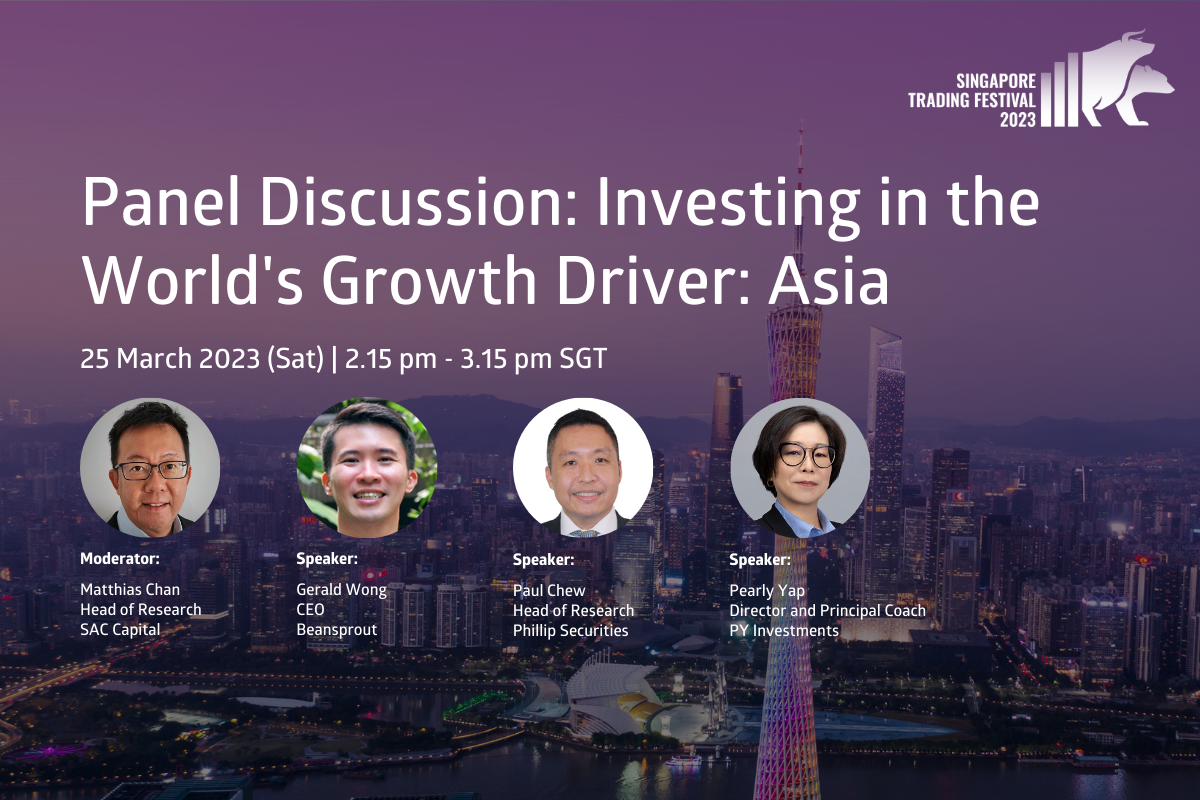 Event Overview
Asia is expected to be the main driver of growth in the coming years and there is much to look forward to in the companies in this space, and especially for companies beyond the benchmark. Join us as we hear from equity research analysts and what they are seeing from their desks on Singapore companies.
In addition to the panel discussion, also hear from Research Analysts Nicole Lim and Chee Zheng Feng, who are from SAC Capital and DBS Research respectively, as they share on some of the mid/small cap stocks they cover.
SAC Capital and DBS Research are some of the participating firms under the GEMS Research Talent Development Grant which aims to expand research coverage of Singapore-listed companies and groom local research talent.
Speakers
Chee Zheng Feng

Research Analyst

Zheng Feng has over 5 years of equity research experience in US and Emerging Market equities. He is a research analyst at DBS Bank covering the consumer sector. Before joining DBS Bank, he worked at a family office, a JV partner of Carlsberg South Asia, covering South Asian equities and private equities. He graduated from Singapore Management University with a double degree in Business Management (Finance) and Economics.

Gerald Wong

Founder and CEO

Gerald Wong, CFA, has more than 13 years of experience in investment advisory, and was previously the Head of Singapore Securities Research at Credit Suisse. Gerald was ranked top Singapore research analyst by Institutional Investor in 2016-20, and has made frequent media appearances in the Financial Times, the Economist, Business Times, Straits Times, Lianhe Zaobao and Channel NewsAsia.

As the founder and CEO of Beansprout, Singapore's next-generation investment advisory platform, Gerald believes in empowering investors to make smarter decisions by providing them with customized insights. He has been actively involved in raising awareness of the Singapore equity market, and acts as an industry mentor in the CFA Singapore Research Challenge. Gerald graduated from the London School of Economics with a BSc (Economics) degree.

Matthias Chan

Head of Research

Matthias is the Head of Research at SAC Capital. He has close to 30 years of experience in investments, business transformation, and national TV. He was formerly with UBS, Nomura, Commonwealth Bank of Australia, Mirae Asset Securities, and UOB KayHian throughout his investment banking career.

Nicole Lim

Research Analyst

Nicole graduated from the National University of Singapore (NUS) with Honours with Distinction in Finance. Her experiences revolve around the Banking & Finance sector, with stints at hedge funds like JL Capital and banks like OCBC and Standard Chartered. Prior to joining SAC Capital, she was an analyst at Credit Suisse's Private Bank.

Paul Chew

Head of Research

Paul has 20 years of experience as a fund manager and sell-side analyst. During his time as fund manager, he has managed multiple funds and mandates including capital guaranteed, dividend income, renewable energy, single country and regionally focused funds. He graduated from Monash University and had completed both his Chartered Financial Analyst and Australian CPA programme.

Pearly Yap

Director and Principal Coach

Pearly Yap was a professional mutual fund equities manager for over 25 years in several top global mutual fund companies. She managed large portfolios that required both deep dive research but also thoughtful portfolio management. She has broadbased investment knowledge both in equities analysis, portfolio management and sector knowledge in Real Estate, Banks and Financials, Utilities, Metals and Mining, Oil and gas and consumer names.

Throughout her investment and research career – there were many lessons and experiences she gained which she hopes to share with fellow investors. She believes that the Investing journey is a constant learning journey and investors who have the passion for discovery and learning will find the journey rewarding and exciting. She hopes to provide investors with both the tools and knowledge to create a sense of independence and achievement.

She holds a Masters of Applied Finance, and is a CFA charterholder and has a Certificate in ESG Investing (CFA).
Event Location
Other Events
28 March 2023
7:00 PM – 8:00 PM
Trading the HK/US markets on SGX using DLCs
Online
Navigating Risk: Why Singapore Market is a Safe Haven for Investors?
Online
Which SGX-listed Stocks/ETFs Will Benefit from the China Reopening Theme?
Online