Investor Resources

Designed and developed for all investors, from novices to professionals, we provide you the tools and techniques to achieve informed investment decisions.
Be the first to receive the latest market insights and happenings on Singapore's securities market.
A research tool that helps you select stocks that suits your investment appetite.
Get first-hand news with live market updates on your customised watchlists through SGX Mobile App.
Stay in touch with weekly curation of market news and investors education events.
Research content covering the market, listed-companies, sectors, themes and data reports.
Gain investing and trading knowledge at ease with curated series of recorded webinars and e-tutorials.
Bite-sized infographics to help you navigate the world of investing.
Receive latest market insights and happenings on Singapore Exchange, in Chinese.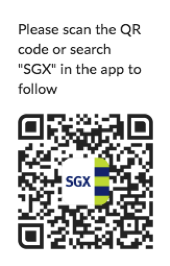 Disclaimer:
The contents of this webpage ("Webpage") are not intended for distribution to, or for use by or to be acted on by any person or entity located in any jurisdiction where such distribution, use or action would be contrary to applicable laws or regulations or would subject Singapore Exchange Limited ("SGX") and/or any of its affiliates to any registration or licensing requirement. It is not an offer or solicitation to buy or sell, nor financial advice or recommendation for any investment product. The contents of this Webpage are for general circulation only. It does not address the specific investment objectives, financial situation or particular needs of any person. Advice should be sought from a financial adviser regarding the suitability of any investment product before investing or adopting any investment strategies. Please note that the general disclaimers and jurisdiction specific disclaimers found on SGX's website at http://www.sgx.com/terms-use are also incorporated into and applicable to this document.