Regular Shares Savings (RSS) Plan
---

It's never too early to start planning for your retirement. With Regular Shares Savings Plans, you can enjoy affordable, long-term investments in a variety of blue chip stocks, REITs and ETFs – all for as little as $100 a month. Invest with Regular Shares Savings Plan by opening an account with the providers and enjoy account opening promotions from the providers!

What is Regular Shares Savings (RSS) Plan?
RSS Plans offer investors an affordable and convenient way of investing by committing a fixed amount of money every month to invest in shares, REITs or ETFs. This removes the need for you to make a lump sum investment or figure out when is the best time to buy.

Who are RSS Plans suitable for?
It is designed for those who:
May not have a huge investment capital
Are new to investing and not sure where to start
Want a fuss-free way of investing without having to monitor the market

What are the Benefits?



Dollar-cost averaging
RSS Plans remove the need to time the market and to figure out when is the lowest point to buy.
What is dollar-cost averaging?
If the share price is high, you will buy fewer shares with a fixed dollar amount
If the share price is low, you will be able to buy more shares with a fixed dollar amount
This means you would be buying less shares at market highs and buying more shares at market lows
Over time, the price you pay for your portfolio of shares would be averaged out



Flexibility
RSS plans generally have lower transaction cost with no lock-in period. You can change the shares, REITs or ETFs you are purchasing, your monthly investment amount or sell your shares, REITs or ETFs any time.


Grow long term savings
If you had started investing monthly in the RSS plan from January 2013 to December 2017 in the STI ETF, your total portfolio value with dividends paid (excluding transaction fees) would have returned 7.1% per annum. Regular investing in the long run could potentially grow your savings through the effects of compounding.
Click here for article on 'STI Dollar Cost Averaging Delivered 7% p.a over past Five Years'


Find out more!
Learn more about the RSS plans offered by DBS, OCBC, and Phillip Securities. As the offering differs slightly across each of these brokers; select a plan that suit your monthly investment needs.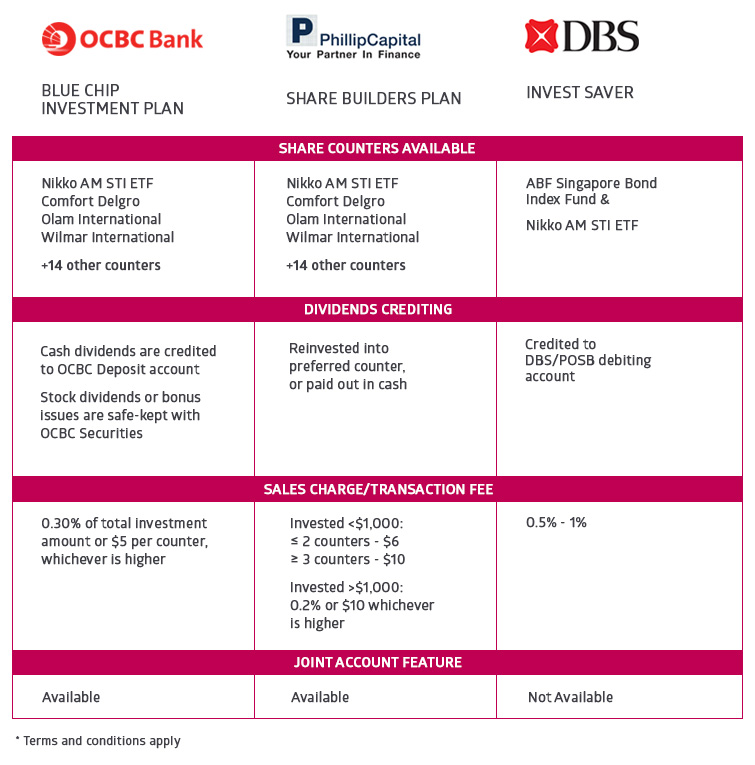 Upcoming Events
Selection of events that are happening soon:
Disclaimer:
The contents of this Regular Share Savings Plan webpage (the "RSS Plan Webpage") is not intended for distribution to, or for use by or to be acted on by any person or entity located in any jurisdiction where such distribution, use or action would be contrary to applicable laws or regulations or would subject Singapore Exchange Limited ("SGX") to any registration or licensing requirement. It is not an offer or solicitation to buy or sell, nor financial advice or recommendation for any investment product. The contents of this RSS Plan Webpage is for general circulation only. It does not address the specific investment objectives, financial situation or particular needs of any person. Advice should be sought from a financial adviser regarding the suitability of any investment product before investing or adopting any investment strategies. Please refer to the full Disclaimer here