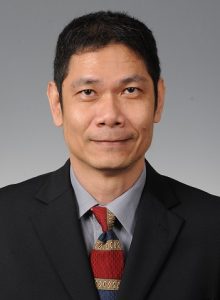 Tom Yuen (YCK)
Tom Yuen is a futures trader with extensive system-based trading and execution experience, and a strong background in quantitative technical analysis. YCK's futures trading experience spans over 20 years with the first 13 years spent as a floor/pit trader with Singapore International Monetary Exchange (SIMEX), now known as SGX-DT, Local.
YCK belongs to the first batch of Computer Science graduates in 1986 from the National University of Singapore. He worked as a Defence Scientist in DSO and spent 3 years in Sweden developing defence software from 1986-1989. While serving his bond after coming back to Singapore, he discovered his passion in the financial market.
He particularly enjoyed the idea of playing this number game, where one can be immediately rewarded, right down to the last deserving cent, according to his trading abilities and skills, with no need to deal, manage or interact with people. With no formal training in the financial discipline, he developed his edge through his strength from the technical field, coupled with an immense interest in psychology, he created trading methodologies that is derived purely from Technical Analysis, with a delicate blend of mass psychology. He quit his job and joined SIMEX in 1992 and traded his own account from day 1. At the end of the first year, he managed to match his last drawn pay as a software engineer, and was experiencing exponential pay increment for his subsequent years.
With an equally strong passion in teaching, he started sharing his trading knowledge with retail individuals from 1993-1997, encouraging interested individuals to join the floor. This teaching was interrupted when his daughter was born in 1996, when he then got himself trained as an early childhood Montessori teacher.
After the trading pit closed, YCK was approached by SGX to assist the exchange in conducting formal training courses. With more than 20 years of training and coaching experience, covering areas ranging from youth leadership, risks and rewards of trading, technical analysis, money management to financial literacy, he is one of the key mentors (invited and endorsed by SGX-DT) who regularly conducts training classes for aspiring traders, as well as running seminars in Malaysia and Thailand, sharing trading experiences not only to retails, but also to prop teams.
Having benefited from trading in the pit environment, YCK strongly believes in the importance of a trading community. Hence, he is also the key AFACT (Association of Financial And Commodity Traders) mentor who carries out mentorship programs at SGX, and is the only trainer who is doing mentorship program in the SGX training room with students, three times a week, from market open till close.